Eyes' Thanks
Staring at a computer screen for hours is not good for your eyes, so Eyes' Thanks protect them: the app displays a full-screen image on your desktop at regular intervals, along with an optional message, reminding you to take a break.
Download Eyes' Thanks v1.3.5 for Windows 7–10 (x86, portable) — .7z
See changelog.

Background images
While some cool backgrounds can be generated on-the-fly, you can provide a more extensive gallery stored locally. One of the images in the user-defined folder will be displayed in full-screen mode for the configured duration, but you can cancel the break if you just can't afford to interrupt your current activity. Also you can delete displayed image from folder with delete key on the keyboard.
Multiple monitors system
It supports multiple monitors system, making it possible to display wide pictures across all your monitors.
Works with any monitor setup
If you sometimes switch between two displays (or even two sets of many displays) with different aspect ratios, you can set up an alternative pictures folder that the program should use whenever aspect ratios changed.
For example if sometimes you disconnect your FullHD notebook from your FullHD monitor, put 2FHD (3860×1080) pictures to "pictures folder" and FullHD (1920×1080) pictures to "alternative pictures folder".
So, a laptop is connected to a monitor — the app uses 2FHD folder, a laptop isn't connected anywhere — the app uses FullHD folder.
Unobtrusive, portable break reminder
The application runs in the system tray, and you can pause the timer easily by just middle-clicking the notification area icon. It is also worth mentioning that the program does not require installation, and user configurations are only stored in the root folder, making it possible to use the app on the go.
This program is free software: you can redistribute it and/or modify it under the terms of the GNU General Public License as published by the Free Software Foundation, either version 3 of the License, or (at your option) any later version.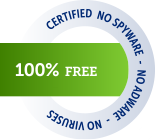 This product was tested in the Softpedia Labs. Softpedia guarantees that Eyes' Thanks is 100% Free, which means it does not contain any form of malware, including but not limited to: spyware, viruses, trojans and backdoors. This software product was tested thoroughly and was found absolutely clean; therefore, it can be installed with no concern by any computer user.